Under JHFCU's current charter, you are eligible for membership in the Johns Hopkins Federal Credit Union if you are employed with or retired from the list below. Please call the Credit Union for current information regarding eligibility.
Aramark (under contract for Johns Hopkins University, Mt. Washington Conference Center Campus)

All employees on the Bayview Medical Campus, including:
- NIA (National Institute on Aging)
- NIH (National Institute of Health)
- NIDA (National Institute on Drug Abuse)
- NHGRI (National Human Genome Research Institute)

Believe in Tomorrow Children's House at Johns Hopkins
Broadway Services, Inc. (Baltimore employees)
Community of Science
Dome Corporation
Howard Hughes Medical Institute of JHMI
Independent College Fund of Maryland
Johns Hopkins All Children's Hospital
Johns Hopkins Care at Home (formerly Johns Hopkins Home Care Group)
Johns Hopkins Community Physicians
Johns Hopkins Health Plans
Johns Hopkins Health System
Johns Hopkins Howard County Medical Center (formerly Howard County General Hospital)

Johns Hopkins Medical Management Corp./Intrastaff
Johns Hopkins University - employees and students
Keswick Multi-Care Center
Lifestar Response of Maryland (employees who work in or are paid from Annapolis Junction, MD)
Maryland Independent College and University Association, Inc.
Peabody Institute of The Johns Hopkins University- employees and students
Paragon Biomedical Services, Inc.
Patient First (Greenspring Station)
Potomac Home Health Care
Potomac Home Support
Professional Placement Resources (Johns Hopkins employees)
Resolution Health, Inc. a subsidiary of Wellpoint, Inc.(Columbia, MD location only)
SAIS (Johns Hopkins School of Advanced International Studies) - employees and students
Space Telescope Science Institute
Transwestern Employees @ Mt. Washington Campus
Universal Protection Service, LP d/b/a Allied Universal Security Services (employees who work regularly under contract for Johns Hopkins University and the Peabody Institute in Baltimore, MD)
---
Household members (of primary members only*) — Domestic partners and anyone who lives in the household and can demonstrate a degree of permanency are considered household members/ Immediate family members of current JHFCU primary members* — including :
spouses
children
step-children
parents
step-parents
grandparents
grandchildren
brothers and sisters
step-siblings


*Primary members are the original member who gave sponsorship to others (who are eligible for membership through employment or census track). If you were sponsored in by a primary member you are not eligible to sponsor others into membership.
---
Anyone who lives, works, worships, volunteers, or attends school in Census Tract 2605.01, Baltimore city, Maryland (Helpful hint when searching for your census tract: (1) Enter your address in the search box on top right of screen (2) then select "Census Tracts and Blocks" under the "Layers" menu in the top left of screen).

Census Track 2605.01 consists if the following: Beginning at the Intersection of East Lombard Street and Ponca Street, proceed east on East Lombard Street to the Baltimore City and Baltimore County border at the intersection of East Lombard Street and North Point Boulevard. Proceed south on the Baltimore City and Baltimore County border to Fait Avenue. Proceed west on Fait Avenue to O'Donnell Street. Proceed west on O'Donnell Street to Ponca Street. Proceed north on Ponca Street to East Lombard Street.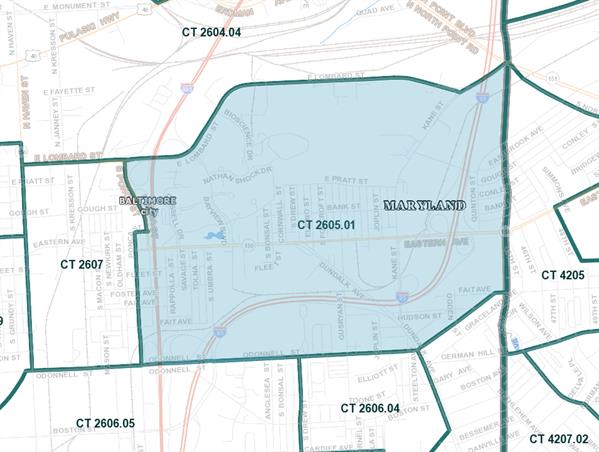 ---


Is Your Company Not Listed?
If you are an employee whose company is not listed and would like to see if it may be eligible, please have your Human Resources or Benefits manager check out our Information for HR Departments and Employers.