See the Many Benefits of a Mortgage Refinance
✔
Change Your Mortgage Type
Avoid uncertainty and switch from an adjustable-rate mortgage to a fixed-rate loan.
✔
Extend or Shorten Your Term
Get a longer term for lower payments or a shorter term to be mortgage-free faster.
✔
See What Rate You Can Get
If your credit score has improved or market rates have dropped, you may qualify for a lower APR.
What You Need to Know About a Mortgage Refinance
A mortgage refinance means you take out a whole new mortgage to replace your original home loan. Here's why it might be worth the extra paperwork: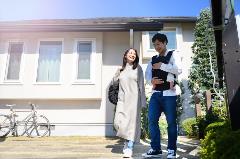 You can change your mortgage type based on better information or market activity.

You can choose a new term of 10, 15, 20, or 30 years to get the right payment for your budget.

You may qualify for a lower interest rate if your finances have significantly improved.

You may have an out-of-state mortgage servicer that isn't meeting your needs.

We offer local loan servicing, so you'll always know who you're dealing with.

We'll maintain your escrow account for taxes and insurance and be sure to pay on time.
Apply Now
★★★★★
"Filling out the application was so quick and easy and they responded within 2 hours with my approval and the information I needed in order to finalize my application."
– Susan F., Baltimore, MD
Enjoy These Features of a JHFCU Mortgage Refinance
Competitive Rates
Find out if our home loan rates can beat your current lender.
Easier Payments
Simply open a JHFCU Checking or Savings account, then transfer funds to your mortgage account.
---
Learn More About Applying for a Mortgage Refinance
---
Learn More About Mortgages
Home Loan and Equity Options for You