Features of a Fixed-Rate Mortgage
✔
Fixed Rates
Budgeting is easy with the same competitive rate for the life of your loan.
✔
Choice of Terms
We offer fixed-rate loan terms between 10 and 30 years to fit your goals.
✔
Low Down Payment
Buy a home sooner with a down payment starting as low as 3%.
Fixed-Rate Mortgage Details
A fixed-rate mortgage is ideal if you're looking for a set payment for the life of your loan.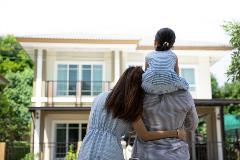 Your competitive APR won't be affected by changes in the markets.
You don't need to buy down your rate with mortgage points.
You can choose a term of 10, 15, 20, or 30 years* depending on
your budget and goals.
Get started with a down payment as low as 3%.
Cancel private mortgage insurance (PMI) when you meet equity requirements.
You can use your fixed-rate loan to purchase or refinance both primary and secondary residences.
JHFCU fixed-rate mortgages are available in Maryland, Virginia, Washington DC, Delaware, and Pennsylvania.
Apply Now
★★★★★
"From the very first contact inquiring about the loan, I had complete support and assistance at every step of the way. The process was both fair and very quick, in my opinion, and I was extremely pleased with the entire process."
– Sylvia E.
Enjoy These Benefits With Your Fixed-Rate Mortgage
Competitive APR
Enjoy the home loan rates you deserve and the peace of mind of knowing your payments are set.
Helpful Service
Our experienced loan officers can guide you through the qualifying process and beyond
Easy Payments
Just transfer funds from your JHFCU Checking or Savings to your mortgage account.
---
Find Out More About Applying for a Fixed-Rate Mortgage!
---
Mortgage Resources
More Home Financing Options for You
HomeFree Home Loan
If you have significant equity in your home, you could enjoy the benefits of a refi without the closing costs. Potential to lower your rate or change your term.
Learn More
Home Equity Loans and Lines of Credit
Leverage the equity in your home to pay for renovations, weddings, college, debt consolidation, and more.
Learn More