Fraud Alert Spoofing Scam (1/11/22)

Please be aware that fraudsters are spoofing the Credit Union's phone number and are calling/texting members to alert them of bogus fraud charges on their JHFCU account. Spoofing means that fraudsters are making it appear that they are calling/texting from a valid phone number (our phone numbers) in order to appear legitimate. And not only are they spoofing phone numbers, but the fraudsters are also friendly and engaging when you speak to them. It's an elaborate act to get you to lower your defenses and give them what they want.

The fraudsters are asking for a variety of information depending on the call – account number, social security number, online banking credentials, card information, etc. In most cases, the fraudster already has the member's card information in their possession and they are calling to try to obtain additional pieces of information in order to gain access to the account.

How it happens:

Fraudster: Calling from what appears to be our legitimate phone number, but has been spoofed (this can be a call, text, or another type of communication)
Member: "Hello?"
Fraudster: "Hello, JHFCU member, I'm with the JHFCU fraud department and there appears to be fraudulent charges on your account. Can you please verify your identity with the last four of your Social, your account number, and your Online Banking User ID?"
Member: Worried about their account, provides the information requested
Fraudster: "We need to verify the answers to your Online Banking Security Questions"
Member: Provides the answers to their security questions
Fraudster: "Let's verify some transactions. Did you make these purchases?"
(The fraudster makes up fraudulent transactions knowing that the member will say "no." This provides legitimacy to the call).
Member: "No, I did not make those purchases."
Fraudster: "Ok, I'll send you a text to confirm that we have your correct phone number and card information. Thank you and have a great day."
Fraudster: Sends text from a 5-digit phone number (could be a valid, but spoofed number)
Member: Responds "Yes"
Fraudster: "Thank you and have a great day"
Call ends

Fraudster now uses member's Online Banking credentials and Card information to access account and/or make fraudulent transactions. It's important to NOT give out your account information if anyone calls or texts!

Some key and very important information:

Our fraud department will NEVER ask for:

Online Banking User ID
Online Banking password
Answers to your Online Banking security questions
Card PIN
Security code on the back of your card
A text alert from our fraud department will NEVER include a link. A legitimate alert about the suspect transaction(s) will ask you to reply to the text message with answers such as 'yes', 'no', 'help', or 'stop'.

If you received a call or text message from our fraud department and are unsure about responding to it, please contact the fraud department directly at 1-877-273-5740. For more details on our fraud department communication methods, click here.
---
Elaborate, fast-growing scam involving mobile payment apps surfaces. (11/23/21)
Have you ever received a text message like this from your bank or credit union, "'Reply yes if you had made this charge or no"? If you're like most people, you want to take immediate action. But be aware that fraudsters prey on fear and urgency of action to make you feel like they are trusted advocates to help you prevent fraud or get your money back if fraud has occurred. In this particular mobile app scam, fraudsters seem to know almost everything about you, including your name, cellphone number, and bank affiliation. They may even "spoof" the number from your bank or credit union making it seem like a legitimate fraud communication alert!

Scary right? So what do you do to protect yourself and not fall victim to these elaborate scams?

Remember that:

The Credit Union

will

alert you of potential fraud occurring, but will

never

call or text you asking you to provide your email or other sensitive account data.
If you receive such communication, hang up, monitor your account through online banking, and contact JHFCU if you have questions!
If you use payment apps like Zelle, Venmo, or Cash App, the Credit Union will

not

ask you to send money using these payment apps. If anyone contacts you asking you to send or receive money through a payment app, they may be trying to lure you into a scam.

We recognize it's getting tougher to recognize scams. Your best defense is to continually monitor your account and to contact JHFCU if you see anything suspicious, and remember to NEVER give a caller your information—email, PIN, etc. Also when using payment apps like Zelle, Venmo, or Cash App, verify the recipient and their information—it's best to only transfer to people you know personally and trust. Once that money leaves your account, you have little recourse if it was sent to the wrong person
---
Warning: Uptick in "fake friend scam" on Venmo (12/9/21)
The Better Business Bureau (BBB) has seen an uptick in the "fake friend scam".
In this scheme, scammers:
Comb through your Venmo looking for people that you pay often.
Spoof their account and recreate an account copying the profile picture and swapping out a number or letter on the account name.
When you go to pay the person you are normally paying, you may accidentally click on the wrong profile and send payment to the wrong person. To avoid this, ALWAYS double-check that you have the correct Venmo account or use the QR code associated with their account.
To prevent scammers from seeing your profile information, always set your transactions to private. If payment is accidentally sent to a scammer, you may lose your money. The money is only returned if the scammer or incorrect person agrees to send it back. Be sure to ALWAYS double-check information before sending money to anyone.
---
T-Mobile confirms Data Breach on August 17, 2021

(9/1/21)
Data breaches are a source of information for fraudsters.

Data breaches open up the door for scam artists to collect personal information from unknowing consumers. Once there is a data breach, personal information (including email addresses and other identifying information) is up for grabs and scammers use this information in phishing emails.

Recently, T-Mobile announced a data breach affecting approximately 49 million consumers' Social Security and Driver's License numbers. If you are a current T-Mobile customer, your personal information may have been leaked and you may be a target for phishing emails. Please stay vigilant and never share any personal information.

If you are a T-Mobile customer, be sure to keep an eye on your credit report. You can also contact T-Mobile customer support at (800) 937-8997 to find out about additional resources that may be available to you.

According to T-Mobile:

7.8 million current T-Mobile postpaid customer accounts were compromised.
40 million former or prospective T-Mobile customers were compromised.
Approximately 850,000 active T-Mobile prepaid customer names, phone numbers, and account PINs were exposed.
---
Warning: Be extremely cautious when receiving text messages from an unknown number (6/22/21)
From Walmart purchase verifications to EDD (Employment Development Department) messages needing a copy of your ID, there are a plethora of ways fraudsters are trying to scam you out of your money, or even worse, your identity!

Before responding to any message you are not familiar with, or that makes your Spidey-senses tingle, take a moment to examine what you just received.
Ask yourself:
Am I familiar with this contact?
Did I place this order?
Is this offer too good to be true?
Is everything spelled correctly (Ex: Is there an "s" in Johns Hopkins?)
When in doubt, call the company or person directly (just don't use the number in the text, if there is one). You may even be able to do a quick online search and find that yes, this is a scam (Try it: Search "fraud text message for EDD" and see what the results are).
Those few seconds (maybe a minute) could be the difference between losing your savings/identity and staying safe and secure. Also, bear in mind that these same rules can also apply to suspicious emails you may receive!
The following are real-life fraud messages members have received. Does anything look suspicious to you?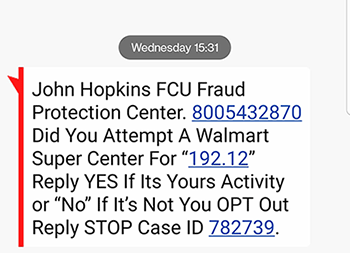 ---
Please Be Extra Cautious About Strange Calls And Texts Referencing Amazon (5/21/21)
There seems to be an increase of fraudulent calls imitating Amazon or other large companies. Members have reported they've received phone calls and text messages in reference to Amazon transactions where the caller is trying to get them to provide debit or credit card information. They may even go as far as "transferring" you to a fake call center, spoofing an organization's music and introduction on the phones.
Amazon most likely will never call someone, and will never try to transfer someone to a financial institution. If anyone asks you for card information, hang up! You should also never click links in a suspicious text message offering you a gift, like the one below, or regarding the tracking of a package you are not expecting.
Please stay vigilant, as fraud is ever-evolving in new ways to scam unsuspecting people.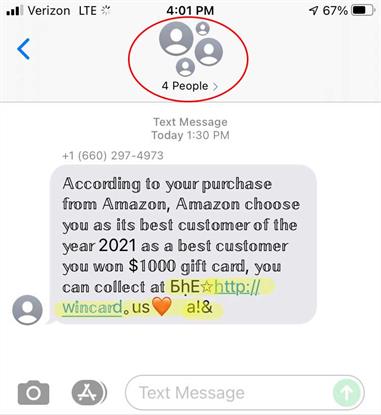 ---

Do not share pictures of your COVID-19 Vaccination Card (2/2/2021)
Your card contains secure information including your birthday, full name, and information about where you got your vaccine. Instead, snap a selfie or post a picture of your "I got the COVID-19 Vaccination" sticker and you will be a lot safer.
---
Tax Scams are currently on the rise (1/27/21)
Scammers could be targeting your tax information by gaining access to your personal information. The best defense is keeping your information secure. You can do this by being vigilant about shredding secure documents, being aware of calls, texts, or emails from the "IRS", and making sure any online tax tools you are using are legitimate. Scammers are specifically targeting more consumers this year because of the need for jobs. When you apply for a job and an "employer" tells you they have a job for you, you typically have to provide your social security number. Please be sure to be aware of common employment scams that could be tied to current tax scams. In honor of January 28th's National Data Privacy Day, click here to see how many tips you are already following in your daily life and where you could make some changes.
"Scammers have really picked up their game this year and they're capitalizing on the emotional, social isolation, the frailty, [and] the financial issues [that the pandemic caused]…" - Amy Barnett of Maryland's BBB (Better Business Bureau)
---
Scammers impersonating Amazon, Apple, and other retailers (12/14/20)
Please be aware many consumers are being targeted by scammers attempting to impersonate retailers. We don't want you to be victimized—please remain vigilant. Many scammers are attempting to contact their victims stating they are from Apple, Amazon, and other popular retailers in an attempt to notify them of "fraud or misuse of your account". As part of their scam, they want you to provide your personal information and account numbers via email reply or phone. DO NOT provide them with any information. It is recommended that you contact the retailer by a published number to follow up. Always double-check the information and be wary of any unexpected calls. And remember JHFCU will NEVER call or email you asking for login information! For more details on these types of scams, visit the Federal Trade Commission site.
---
Employment Scams (4/15/2020)
Scammers are getting more sophisticated and coming up with new ways to take advantage of job seekers all the time. Be aware that scams targeting job seekers are increasing and new technology is replacing traditional methods making it even easier for scammers to target people who are looking for work. They use phony websites, unsolicited emails, robocalls, and cold calls using fake-origin phone numbers. Some offer remote interviews using tools such as Skype, social media, or instant messenger services to appear legitimate.

These scammers will try to steal your identity, your money, and even your reputation unless you know how you can recognize their tricks. Here are some warning signs that will help you recognize a job scam:

Job offers from strangers - You're offered a job without an application, interview, or discussion with the employer.
High pay for little work - Be wary of ads, emails, or callers promising to pay a lot of money for jobs that don't seem to require much effort, skill, or experience.
Requests for money - The company asks you to wire money or asks for your credit card information. Once you've paid, the scammer disappears and so does your money.
Requests for personal identity or financial information - The company asks for personal information like your social security number or driver's license number. They may even ask you to pay for a credit report during the application process.
You are asked to cash a check - You're asked to cash a check and forward some of the money to a third party. Scammers also send checks to cover the supposed cost of doing a job, with a portion to be used as payment to the worker.
High pressure to act now - Be wary of anybody who pushes you hard to accept an unsolicited offer of work, or who pressures you to take other actions that seem unusual.
Long-distance employer - Many job scams involve opportunities that seem to come from an employer located in another country or a distant state. Some may open temporary offices and conduct in-person interviews and then vanish.
The income details aren't clear - If the company doesn't pay an hourly rate or a salary, carefully investigate the details.
Suspicious emails from a free email service - Be wary from job solicitations that come from free mail services such as Yahoo or Gmail. Most real employers will use an email address related to their company's website address.
Fake websites - Don't click on any links without verifying the company. Visit the company's website and if they don't have one or it doesn't have contact information, consider that a warning sign. Googling the company name plus "scam" or "rip-off" will give you some information on the company if it's not legitimate.

Report a Job Scam
If you've been targeted by a job scam, file a complaint with the FTC, your state Attorney General, and your local consumer protection agency. You may also check a company's record with the Better Business Bureau (BBB) at www.bbb.org or search scam reports using BBB's Scam Tracker at www.bbb.org/scamtracker/us. Also, you can call your local BBB office if you want help figuring out whether you are looking at a scam.



---
COVID-19 vaccine (12/14/2020)
As the COVID-19 release begins, the likelihood of fraudulent sales and attempts to collect funds on misrepresentation is rising. Several "companies" will and already have released information and advertisements stating they have a product that can cure or prevent COVID-19. Con artists have already impersonated the WHO (World Health Organization) and the CDC (Center for Disease Control) and have released fraudulent information. You may also receive robocalls from someone claiming to be a government official speaking in regard to the pandemic. Do not fall victim to phishing attempts. Fraudsters are attempting to trick you into sharing your secure information. Please make note that vaccines will not be available for purchase online or via phone. If you are skeptical, always do your due diligence and look into the situation further. For more details, visit the Better Business Bureau site.
COVID-19 Scams (3/26/2020)

Due to COVID-19, everyone is seeking information and guidance. Scammers are taking advantage of this unprecedented situation and using it to steal personal information and money. Here are a few tips that can help prevent scammers from taking advantage of you:
Be careful handling sensitive Information. Many people are working from home and it's important to maintain a high level of security with any sensitive information such as social security numbers, address information, legal documents, etc.
Never share your personal and/or financial information on the phone or through email and/or text messages
The government will never call you to ask for money
In addition, here are some examples of scare tactics scammers are using:
Scammers may attempt to contact you regarding: "free test kits to be delivered to your home" and warn you about "protecting your loved ones from the coronavirus"
Scammers may offer help to pay student loans
Scammers may attempt to make you believe they are from your local health department and scare you into believing you have come into contact with someone who has the coronavirus
Scammers may use phishing emails that appear to be from the Center for Disease Control (CDC) or the World Health Organization (WHO)
Websites on the internet offering vaccine kits for a small shipping fee
Scammers may attempt to go door to door requiring you to take a fake coronavirus test
Helpful Reminders
At this time, there are no vaccines available for Coronavirus.
Beware of fake websites; it has been reported that a similar version of Johns Hopkins University's Coronavirus Dashboard was created to spread malware and steal sensitive information.
Beware of fake emails from fake medical experts claiming they have a cure you can purchase or spreading false information. You may also receive emails from someone spoofing your workplace email (such as your HR department) that targets employees at your organization.
The Justice Department is urging people to report any suspected fraud attempts related to the Coronavirus by calling the National Center for Disaster Fraud (NCDF) hotline at 1-866-720-5721 or by emailing the NCDF at [email protected]