Features of a Johns Hopkins Home Improvement Loan
✔
No Lien on Property
A home improvement loan isn't a second mortgage so your home isn't at risk.
✔
Competitive Rates
You'll get a lower APR than on our personal loan for the same amount.
✔
We Pay the Contractor
Just give us an invoice and we'll write you a check payable to the applicable contractor.
✔
Fast Processing
Get your funds as soon as we approve your application and invoice.
Home Improvement Loan Details
A home improvement loan is a convenient option to take care of a smaller project around your property.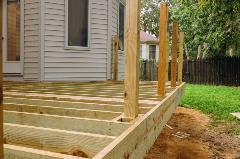 Borrow up to $50,000
Competitive rates are lower than a credit card
Since a home improvement loan isn't a second mortgage, there's no lien on your property
We can write a check to you or your contractor
No proof of insurance is needed
The interest isn't tax deductible


Get a home improvement loan today and start enjoying your new deck tomorrow!
Apply Now
★★★★★
"From the very first contact inquiring about the loan, I had complete support and assistance at every step of the way. The process was both fair and very quick, in my opinion, and I was extremely pleased with the entire process."
– Sylvia E.
Enjoy These Benefits With Your Home Improvement Loan
Quick Application Processing
Applications will be processed the next business day. If approved, you'll get your check for the contractor right away.
Easier Than Home Equity Loans
A home improvement loan lets you borrow smaller amounts with no collateral needed, so it's faster and less risky.
Simple Loan Management
You can easily make loan payments from your JHFCU account using online and mobile banking.
Member Benefits
If you're new to JHFCU, then this loan is your chance to access better rates, fewer fees, and local service.
---
How to Apply for a Home Improvement Loan
---
Home Improvement Loans FAQ
Home Loan Resources
More Ways to Fund Home Improvements